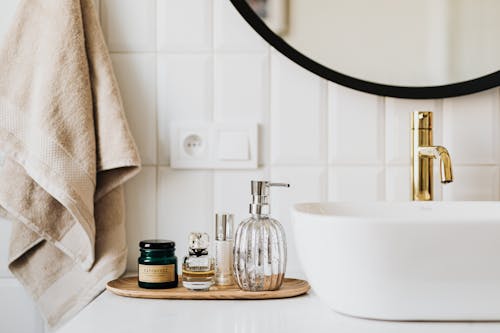 Creating a bathroom design based on black is a way to create a timeless interior that reflects the great taste of the owner of the house. Black and its derivatives are ideal for both small and large bathrooms, spas, saunas, swimming pools, wherever you want to create a space of relaxation and relaxation. The dark color will add an intimate mood and a mysterious atmosphere. Remember that black walls and floors will always win, but black ceramics will probably not.
Bathroom in black: the choice of finishing materials
Have you decided on black in your bathroom? What materials to use when decorating the interior?
You can find it in any format, from small cubes to large briquettes, likewise with finish and texture. The glossy black tiles will reflect the light beautifully and thus illuminate the interior. These sleek, large formats will look like mirrors, while small and convex tiles will give you an interesting light effect. A material imitating natural stone with a matte surface is quite demanding for a bathroom. The matte texture absorbs light. It is more difficult to keep it clean. Use matte tiles on the walls, away from soap splashes.
For elegant, stylish compositions, opt for shiny black granite slabs. A large slab without division on the wall will add depth to the interior. Use black slate for austere bathrooms. Its format and texture will become a decoration and an internal climate.
Quartz tiles are popular in the market. It is a highly durable material rich in colors made from natural raw materials such as shale, granite, and ceramic pigments. Large format material, usually dull colors 100x300cm. One or two slabs can be enough to cover an entire bathroom wall. The use of dark color will create an avant-garde composition, and due to its strength, this material will be an excellent solution for years to come.
Black glass is a very popular solution, especially used in the kitchen. It can also be applied to bathroom walls. However, the hardest part is when it comes to keeping the material clean. Even if you place it on a fragment of the wall away from the source of splashes so that no streaks of water will form, the dust will be clearly visible in black. The difficulty of maintaining does not change the fact that black is a very effective wall decoration material.
Rules for the harmonious arrangement of a bath in black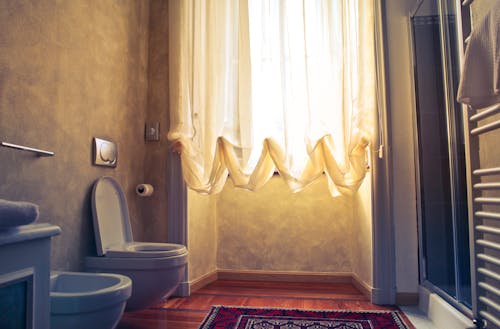 Many people prefer to create their bathroom in slightly black, and in addition to dark walls and floors, they add many elements in other colors. Black oversaturation can be easily overcome with softer materials.
You should give preference to veneered furniture in the bathroom, as wood insulates the interior. All shades of exotic wood and native oak will go well with black.
Every hygiene room always has large surfaces with white elements such as sinks, toilets, bidets, or bathtubs. They also affect the lighting of the room, and the black surfaces of the walls are an excellent backdrop for glossy white ceramics.
Graphic color aficionados will find a wide variety of accessories to choose from. Bright colors like yellow, red, or sapphire will work well with black.
Choosing great lighting is the most important thing for a black bathroom. Do not spare points of light. The room should be saturated with a really large number of light colors, so that dark surfaces do not absorb all the light.